A warm welcome awaits you…
Announcements & Upcoming Events
2019 Gospel Series
With special visitors Jerry Jennings and John Fitzpatrick
September 15th - 29th
Meeting Sundays 6-7pm
Monday -Friday 7-8pm
Location: Ankeny Gospel Hall

Spanish Gospel meeting
September 9th, 6:30 pm
Location: Franklin Avenue Library
5000 Franklin Ave, Des Moines, IA 50310

Weather permitting, a picnic will take place in the park after the Gospel messages.
2019 Annual Ankeny Bible Conference
Saturday, September 14th 10am-6pm
Sunday, September 15th 10am-7pm
Location: Ankeny Gospel Hall
803 SW 3rd St. Ankney, IA 50023
Contact Dan Massoth with any questions or lodging needs:
515-556-9470
Ankenygospelhall@hotmail.com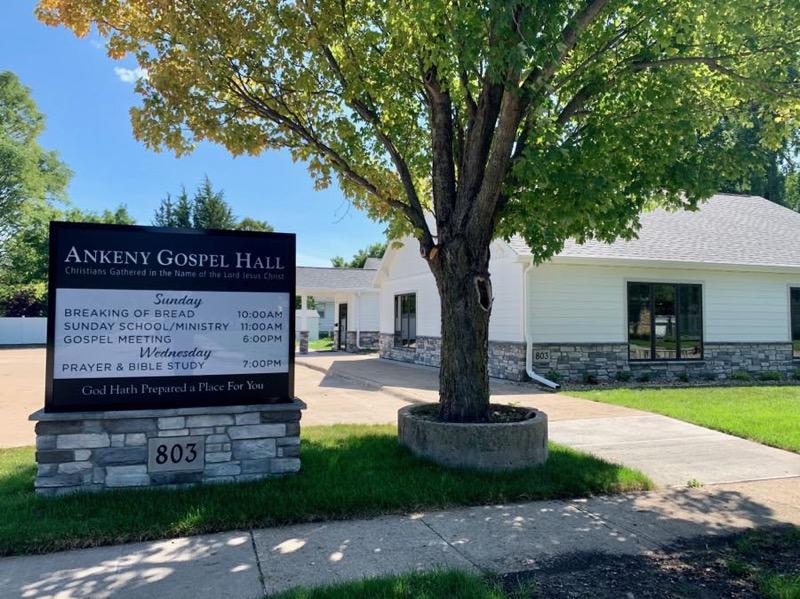 Sunday Service
Lord's Supper.......10:00 a.m.
Coffee & Snack….10:45 a.m.
Sunday School....11:00 a.m.
Bible Teaching... 11:00 a.m.
Gospel Meeting... 6:00 p.m.


Wednesday
Prayer/Bible Study...7:00 p.m.



Our Address
803 SW 3rd St
Ankeny, Iowa 50023
---
---
---
Jesus said...
"For where two or three are gathered together in my name,
there am I in the midst of them."
---
~ Matthew 18:20